"You can make all these crazy, fucked up things but that doesn't mean you're a crazy or fucked up person"
– Dave Hilliard

Artist Dave Hilliard is the second resident artist of WALL, a collaboration between Blackened Sun Brewing Company and Big Shop Friday.
I met with Dave over a flight of beers to discuss his practice, drawing at the working mens club while his parents had a drink, beer culture, consumerism and his residency at Blackened Sun Brewing Company.



Born and raised in Northampton, Dave studied Printmaking at Wolverhampton. For the second residency of WALL, Dave presents eight paintings that make up a series of work that scrutinise how a recent change in contemporary society has affected how people are able to construct identities and connections.
It seemed fitting to meet Dave in a bar although practically not the best location for an interview. Fighting over the sounds of busy after work drinkers and punk music playing through the speakers Dave educated me on craft beer, comforted me that it's okay to not feel guilty for enjoying my go to Coors Light and offered words to describe beer in ways other than "this one tastes beery". So over a "flight" of 4 thirds we discussed Dave's work.


---
Can you tell us a bit about yourself and when you first started as an artist?
---

When we were growing up in my family, my parents used to like going out to the pub quite a lot, but at the time, in the 80's, a lot of pubs wouldn't let children in, so we would go to working men clubs. They were meant to be more family environments so they would let children in and then the adults could still drink. But it was boring just sitting around with adults who would just be talking, so my mum would bring drawing things for me in her handbag.
The older I got I never liked school, I didn't like the system, I didn't do art at school. I didn't do GCSE art or anything. When I went to college was really when I started making art, when I was 17 or something. I started finding an expression of who I was.

---
I suppose when you are younger, so as a child, you don't really consider that it is a thing to be an artist, and then you reach the age where people are like "what are you going to be" and then that's when you're like "oh I could be an artist"...

---
I always knew I liked drawing, and I knew I was good at it-but I guess that in itself doesn't make you an artist.

When I went to college was the first time I really thought about that. When I started learning about other artists and art history and think, 'oh okay that's a thing you can do, that's a thing you can be.'


---
Was there anyone in particular that was inspiring to you at that time?

---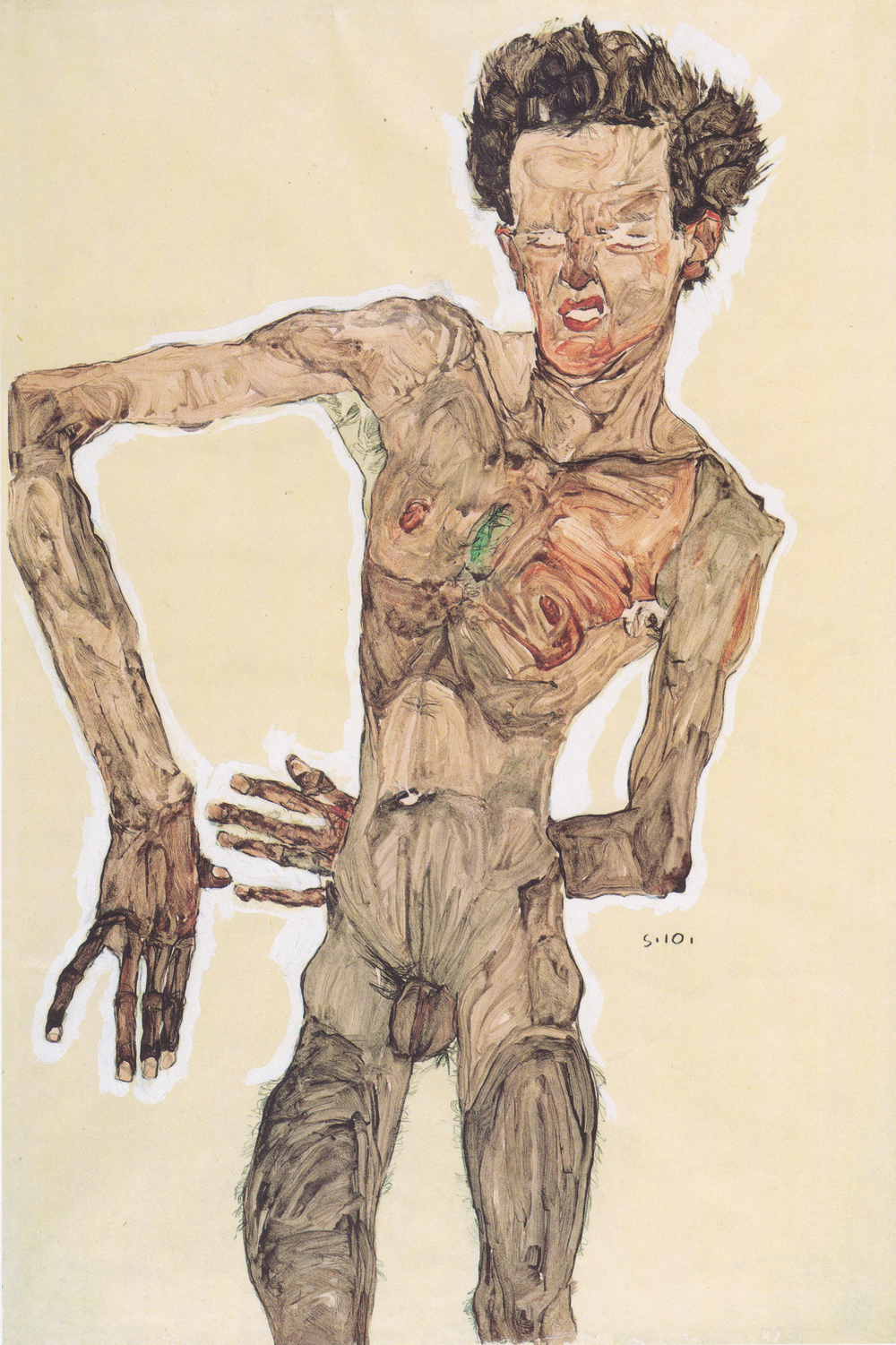 Egon Schiele
Expressionist, angsty and quite raw. So as a teenager I saw his work and at first thought, "this guy must be so fucked up, these paintings are crazy" but I came to see that art, and his kind of art, as a type of expression that's quite safe in a way
You can make all these crazy, fucked up things but that doesn't mean you're crazy or fucked up as a person
Probably more balanced sometimes than people that don't have that outlet.
But yeh, that's the first artist I really responded to, because in some way they can be quite scruffy and chaotic and it taught me that you didn't always have to make neat drawings or really neat artworks.
---
Where did you go to study?

---
So I grew up in Northampton and then went to college in Northampton. I went to uni to study Printmaking in Wolverhampton. They had really good facilities, I guess it was what they called a polytechnic so everything was new.
---
But your work isn't print based?

---
Yeh I wasn't a very good printmaker. I didn't really have the patience, a lot of printmaking techniques are quite involved and require a lot of time. I wanted to get stuff out and express things really quickly.
So I'm not technically very good at printmaking, but I guess part of it is I still work on paper quite a lot. I struggle to get on with canvases as objects. Paper takes paint and pencil in a different way to canvas, it's not so absorbent and is more tactile.

---
What attracted you to apply for the WALL residency at Blackened Sun Brewery?

---



I'm always motivated to be involved in projects I feel passionate about. We'd been going to Blackened Sun for quite a while, it's quite a special place. Gary and Sharon, they're just lovely, they're really nice people and I think that's a really special thing to be able to go somewhere, consume something that's been locally made and talk to the people who made it, who are really enthusiastic. It's a really nice connection and it's grounding.
So yeh, we'd been going in there for a while and just thought it was a really nice place. So when it came up, it made sense to me… and I had paintings about beer.


---
So that's quite interesting to me, because those works existed already, they're not a response to the call out. So what are the works about initially when you were making them?
---




When I first started making them, and this was maybe 5 years ago now, I had just got divorced. I'd moved back to my parent's house and was living in my childhood bedroom in Northampton… which was an interesting time. So the paintings at the time, they were partly expressions of frustration. Which is interesting as somebody said about one of them currently at Blackened Sun, having a kind of trapped or stifled feeling which is how I felt about things at the time.
I was also watching all kinds of strange things on YouTube, which is a weird space to be able to see all these insights into people and their lives which you wouldn't see otherwise. And there was this thing called the YouTube drinking community, where men, usually by themselves wearing like balaclavas or masks, film themselves drinking, and it's a little bit like wrestling in the 1990s where people have feuds and cuss out other people making videos, and have little rivalry's and allegiances. And a friend said to me "I had a dream you were making paintings about those guys" and that made sense so I thought I should. That's where the idea of the masks came from.


---
And it's always you that they're modelled on?
---


Yeh, so they always start as self-portraits. I had this period after I got divorced and I was quite low, and part of that rebuilding was creating a lot of self-portraits, and as things started to improve my focus became less inward and I started to get more interested in things in the world again and focus more outward. So I thought, okay, I want to keep making this work but for it have more relevance to people other than just me. So yeh they start with me looking in the mirror, I use myself as a model, and then change them.


---

So do you use yourself as a model just out of convenience or do you feel there's a reason why you're placing yourself in those works?


---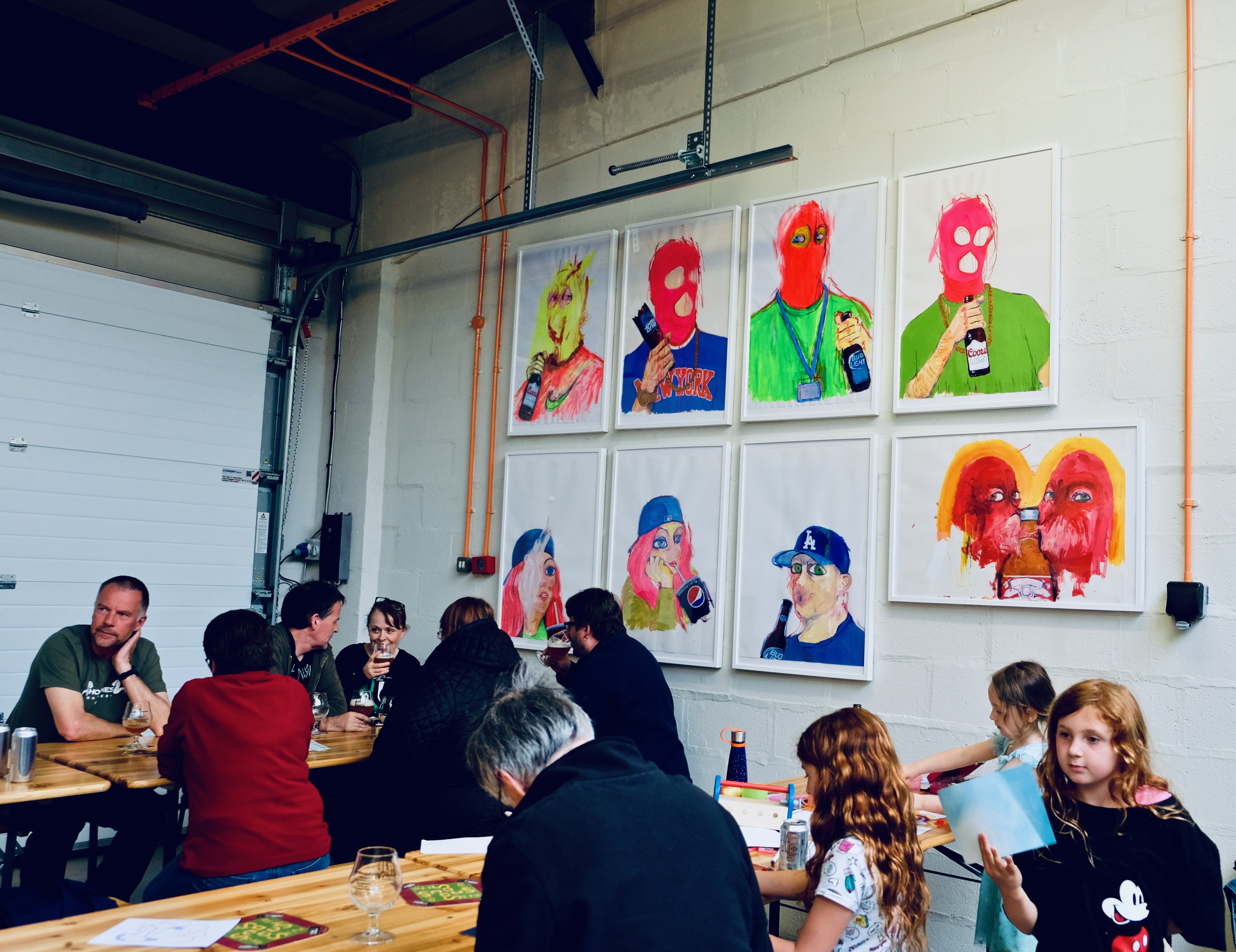 Both. There's the idea that everything an artist makes is a self-portrait anyway, you can't take yourself out of it, you just can't really make anything that's truly objective, and I don't think you'd want to…it's your subjective view of the world that makes things interesting.
And there's a thing about how they still are self-portraits, and costumes and masks are seen as transformative and they can be concealing and revealing both at the same time, so there's that interplay.


---

The ones with eyes, they really stare at you, they're really confrontational but then they are hidden behind a mask as well.


---


The ones with eyes people seem to find more unsettling, they just follow you around the room.
When I first took the paintings down to Blackened Sun, Gary and Sharon where like, "when we saw your work, we couldn't believe they were from this quiet guy that comes in, this quiet softly spoken guy."
They're very passive aggressive.


---

They are, you've got the masks which are similar to the Mexican wrestling masks, and then the broken bottles, and the stance and general assumption that comes with some of the clothing which places them into a certain stereotype.


---

Yeh, the branding. It's like this implicit violence of capitalism, this gash to society.
Plus I was interested in things that came across in these YouTube videos, and how people put their identities together.
Especially during a time when I was rebuilding my identity.


---

Can you expand on the use of the beer brands in your paintings?


---

So with the beer brands in the paintings, they're the opposite of what Blackened Sun are about. That's why I was a bit unsure about submitting them at first, I didn't think they'd want to have these "lite" beer brands in that space, but then that's what works, that's the juxtaposition.
At the time, when I started including them, Budweiser and Coors Light, I think I was a bit, again working out who I was and what I was about. And there's always a part of me that's like an arsey individualist. So whatever I'm expected to do, by social ties, I do the opposite, and I'm like "you didn't expect that did you" just to be awkward.
And I think that someone like me, is meant to drink craft beer and talk about hoppy notes and that kind of thing, I suppose part of me wanted to be like, no actually I like these beers, these utilitarian beers.


---

So that's interesting then in the way that they're placed now becoming a criticism almost of those brands. Just in terms of the environment and the fact that they're in direct contrast has I guess reconceptualised the work.


---


Yeh and I guess that's maybe an acceptance on my journey, where I have just accepted that I am a bearded middle class person that drinks craft beer and maybe that's fine.

---
WALL is a three month residency project organised by Big Shop Friday and
Blackened Sun Brewing Co
. WALL is about supporting local independents, whether that's art, beer, food or music. Working in collaboration like this will help build audiences, bridges and hopefully new opportunities to help grow your business or creative practice.
For more information about WALL visit
wall.bigshopfriday.co.uk
WALL is supported with funding from MK Community Foundation.
Interview by Roisin Callaghan
@callaghanroisin
and WALL photography by Jo Trotter
@imagebyjt